It's finally happened: Subway sandwich shops dethroned McDonald's as the largest food chain in the world last year. The secret? Subway's ability to set up a store just about anywhere. On boats, inside churches. . . have a look:
Location, Location, Location!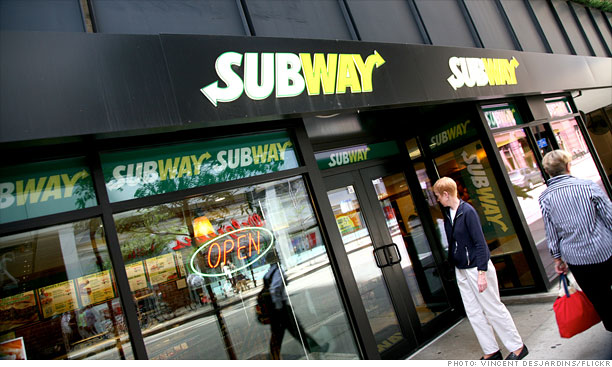 Although Subway eclipsed McDonald's number of restaurants in the U.S. over nine years ago, the sandwich chain has finally grabbed the global crown. Subway had 33,749 restaurants worldwide at the end of 2010 and McDonald's had 32,737. What's the key ingredient to their sandwich success? It's all in their crazy locations.
"Having stores in non-traditional locations certainly helps," said Les Winograd, a Subway spokesperson. "It allows us to get into areas that some of our big competitors would find difficult to do. Subway is flexible and we have minimal equipment, which allows us to be creative in where we go."
Here are six bizarre Subway locations, from all around the world:
Detroit Central High School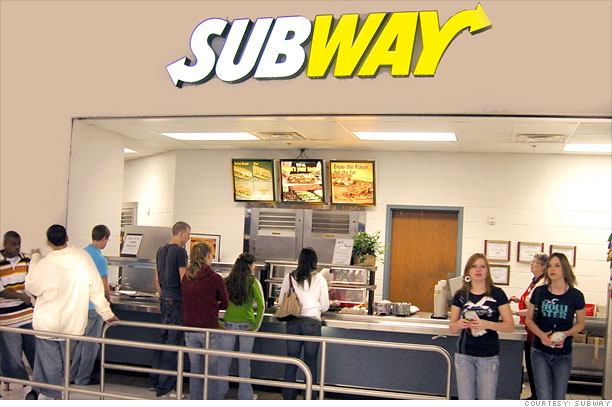 The Northwest Independent School District in Texas also operates a Subway franchise.
Location: Detroit
Date opened: Feb. 2011
Students at Detroit Central High School are not only able to enjoy some of Subway's five-dollar foot longs, they also get to earn some extra bucks and college credits while they're at it.The Subway University program began serving kids business classes last month in an effort to teach them valuable entrepreneurial skills using a hands-on approach. Students can enroll in the program and learn anything from how to prepare sandwiches to supply chain management.
Detroit Central High School was the first in the country to implement the program, but a growing number of schools are opting to own and operate Subway sandwich franchises, right in their buildings.



True Bethel Baptist Church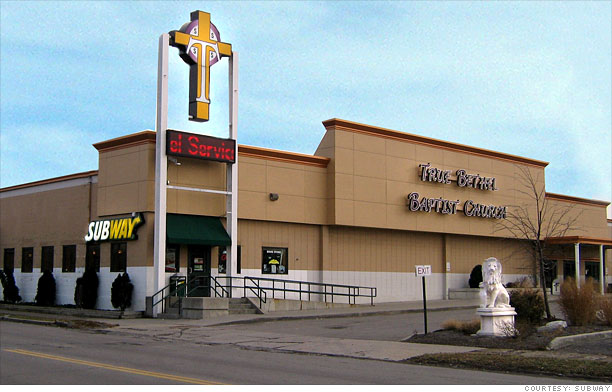 Location: Buffalo
Capacity: 1200 sq. ft.
Date opened: Sept. 2004
This Buffalo, New York church demonstrates that man shall not live by Hearty Italian bread alone. Reverend Darius Pridgen opened the restaurant at his church in 2003 to provide job training to neighborhood residents and food for the hungry.Having a Subway in the church was headline grabbing enough that True Bethel Baptist Church was featured last year on the CBS show, "Undercover Boss." Subway's chief development officer, Don Fertman, went undercover as a scruffy looking job applicant to rate how well the franchise was doing.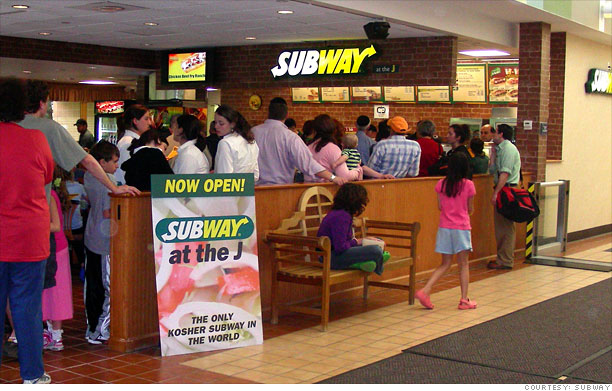 Location: Cleveland
Capacity: 850 sq. ft.
Date opened: May 2006
The first ever Kosher Subway in the world opened up inside the Mandel Jewish Community Center of Cleveland.The franchisee, Ghazi Fadoul, had already opened 100 Subway sandwich shops in the area but decided to replace cheese with a soy-based substitute and remove ham and bacon from Subway's menu for his new venture. The Cleveland Kosher organization supervises food preparation, except for Friday afternoons and all day Saturday, when the "Closed" sign comes up, in observance of the Sabbath.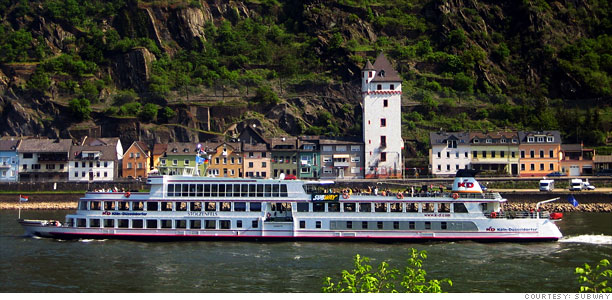 Location: Germany
Capacity: 524 sq. ft.
Date opened: April 2010
The German
MS Stolzenfels
is the world's first and so far only ship with a Subway restaurant. Passengers experience beautiful stretches of the Rhine River in Germany, with the option of eating a foot-long sandwich at the same time.This huge cruise ship operates on a daily basis between Rudesheim and Koblenz and has a capacity of over 100 potential Subway customers per journey.
World Trade Center construction site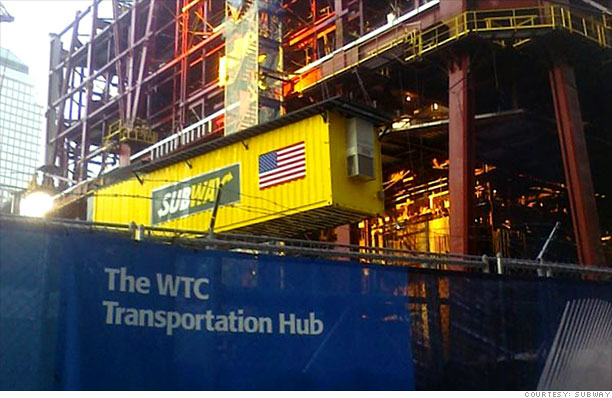 Location: New York
Capacity: 600 sq. ft.
Date opened: June 2010
Towering high above the underground subways New Yorkers use to travel daily, the only way up for this Subway located above One World Trade, or Freedom Tower, is up.The skyscraper being built at Ground Zero will become the city's tallest, standing at 1,776 feet, sometime in 2013. This Subway gets hoisted up to the next construction level as each floor of the tower is built, and will do so until the 105-story building is finished.
Good news for construction workers who would normally have a long way down to get a sandwich for lunch.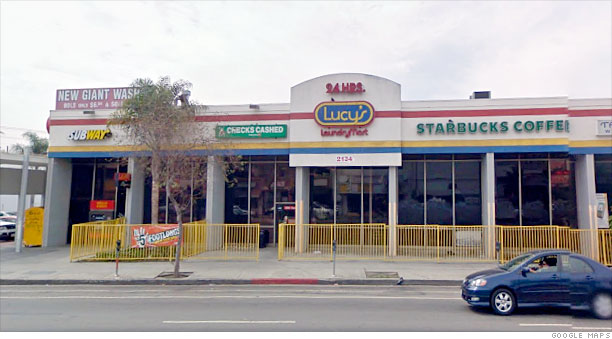 Location: Los Angeles
Capacity: 700 sq. ft.
Date opened: Dec. 2000
For generations, apartment dwellers have wondered: Why am I sitting and staring at my clothes spinning in a washing machine when I could be eating a sandwich instead? Subway has deigned to answer their cries for sustenance.Many of the large Lucy's Laundry Marts around the country, but especially in the LA area, sub-lease space to popular brands: Subway is one of them. The laundromat is open 24/7 but customers who want to eat from Subway's menu will need to do their wash between the hours 7am -- 11:00pm, when the restaurant is open.